Peaks
aktuelles Kunstschaffen der schweiz Kupferschmid
Eine Serie von Ölbildern, die die maximale Höhe zum Thema hat. Gemeint wird nicht beispielsweise ein begehbarer Berg, der als materielles Gefüge statische Vertikalität darstellt, sondern der zeitliche Kurvenverlauf mit Anstieg und Abfall vor und nach der Scheitelhöhe mit Seitenflanken, die steil wie flach ausfallen.
Kann die Gesellschaft mit dem Fortschritt noch mithalten und beispielsweise das Finanzsystem und ihre ausgelagerten Gewinnoptimierungen weiterhin stemmen, oder kollabiert sie – schleichend – an den Nebenwirkungen wie Korruption oder Ausbeutung oder an den Flüchtlingsströmen, weil dieser Peak längst erreicht ist? Die weltweite FridayforFuture-Bewegung insistiert seit 2019 hartnäckig ihr Ansinnen, während die Corona-Pandemie ihr jetzt die Brisanz streitig macht.
Gleiche Intention wie "Peaks" erfährt auch die Werkgruppe "Verdichtung", wo zB. die Einzelserie "Board in Front" mit den weiss-rot gestreiften Schranken und Absperrungen diejenige Grenze darstellt, hinter der sich die Konsequenz des Überschreitens konkretisiert.
A series of oil paintings, which has the maximum height as its theme. What is meant is not, for example, a mountain that can be walked on and which represents static verticality as a material structure, but the temporal course of the curve with ascent and descent before and after the crest with side flanks that are both steep and flat.
Can society still keep up with progress and, for example, continue to keep the financial system and its outsourced profit optimisations in check, or is it collapsing – insidiously – because of the side effects such as corruption or exploitation or because of the flow of refugees, because this peak has long since been reached? The worldwide FridayforFuture movement has been insisting on its plans since 2019, while the Corona pandemic is now taking its explosive nature into account.
The same intention like "Peaks" reflects the group of works "Verdichtung" (Compression), where, for example, the individual series "Board in Front" with its white-red striped barriers and fences represents the border behind which the consequence of crossing it become concrete.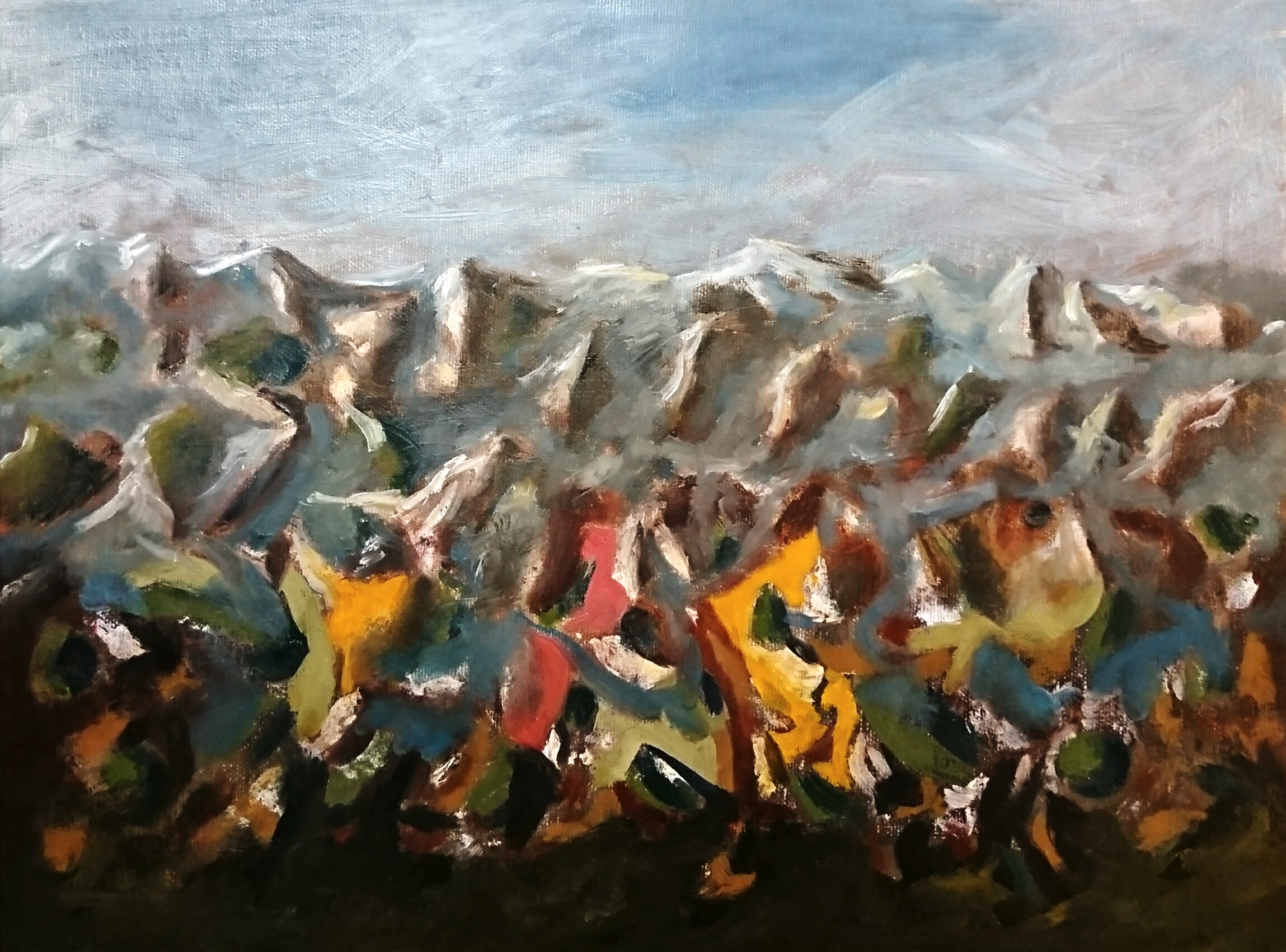 above:
Spitzen, 2017
Oil on Canvas, 40 x 30 cm
Private Collection
Foto: Urs Kupferschmied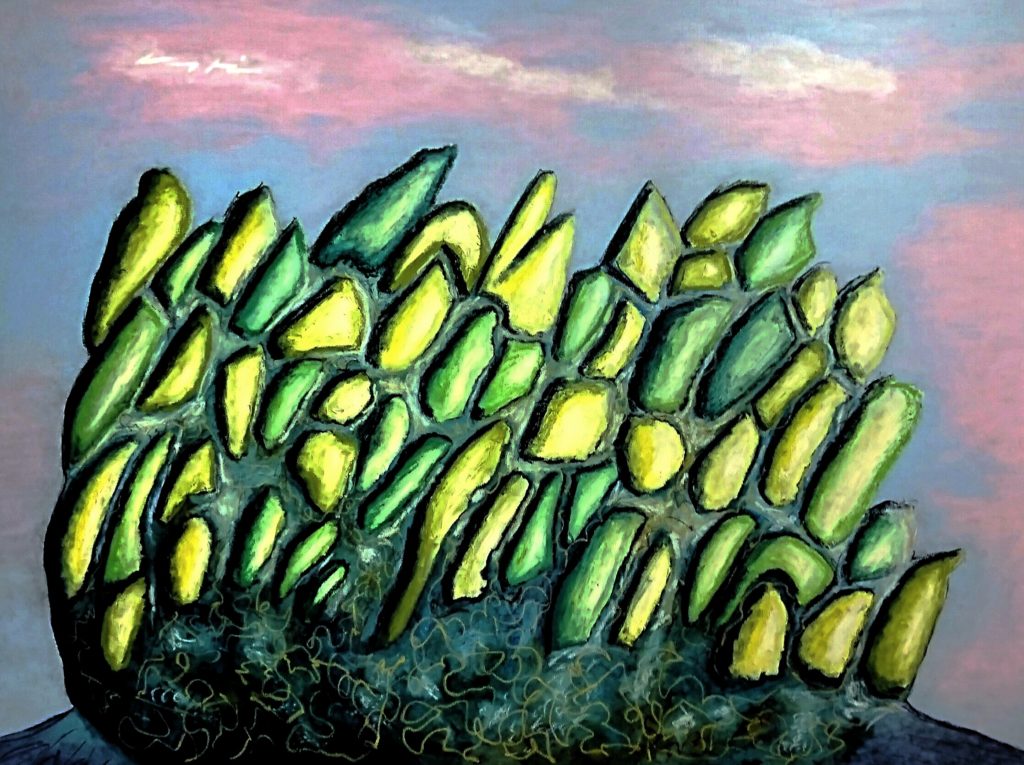 above:
Vorsicht Gurke, 2017
Oil on Canvas, 120 x 90 cm
Foto: Urs Kupferschmied
below:
Fallende Flecken, 2018
Oil on Canvas, 120 x 90 cm
Foto: Urs Kupferschmied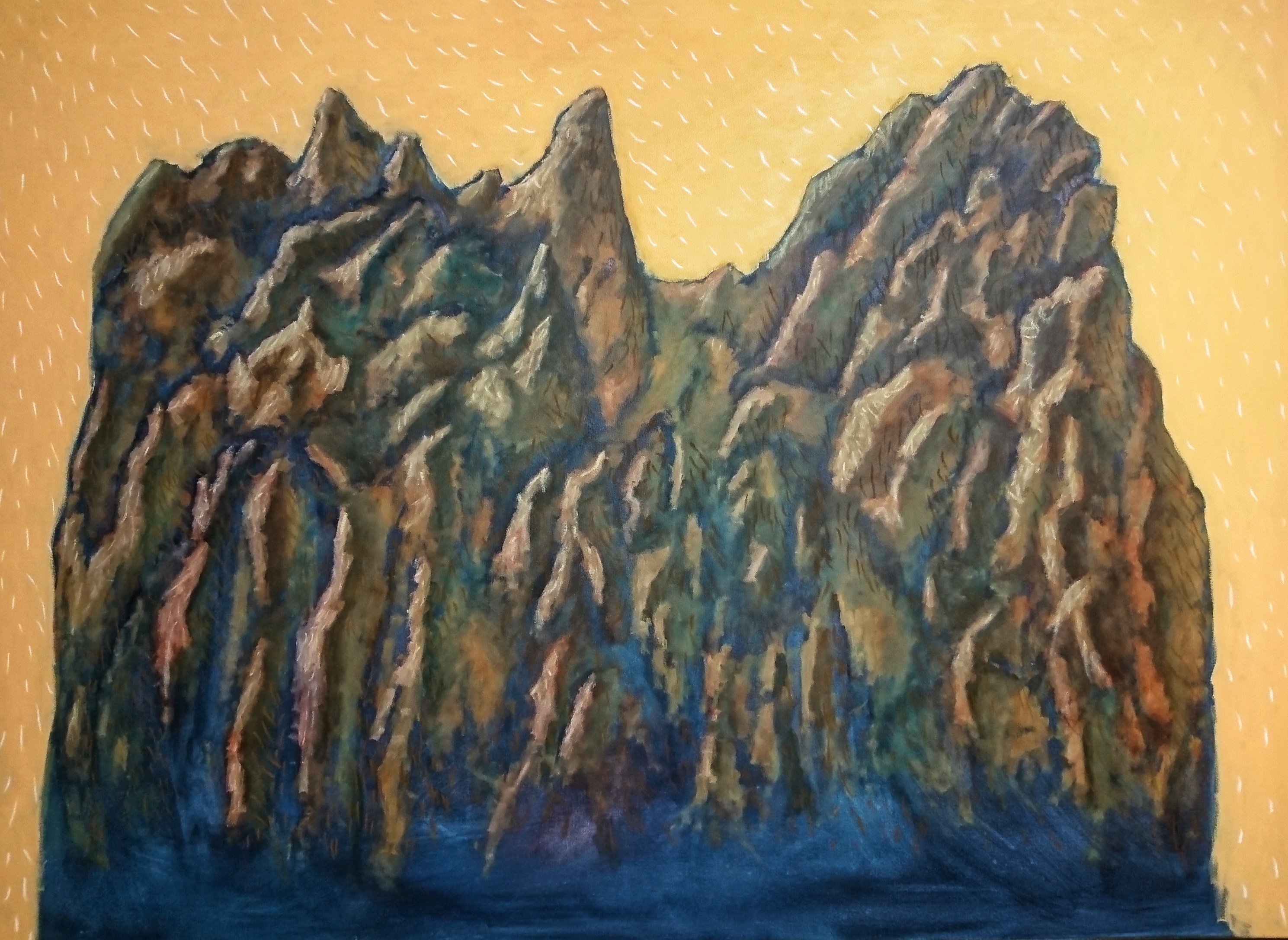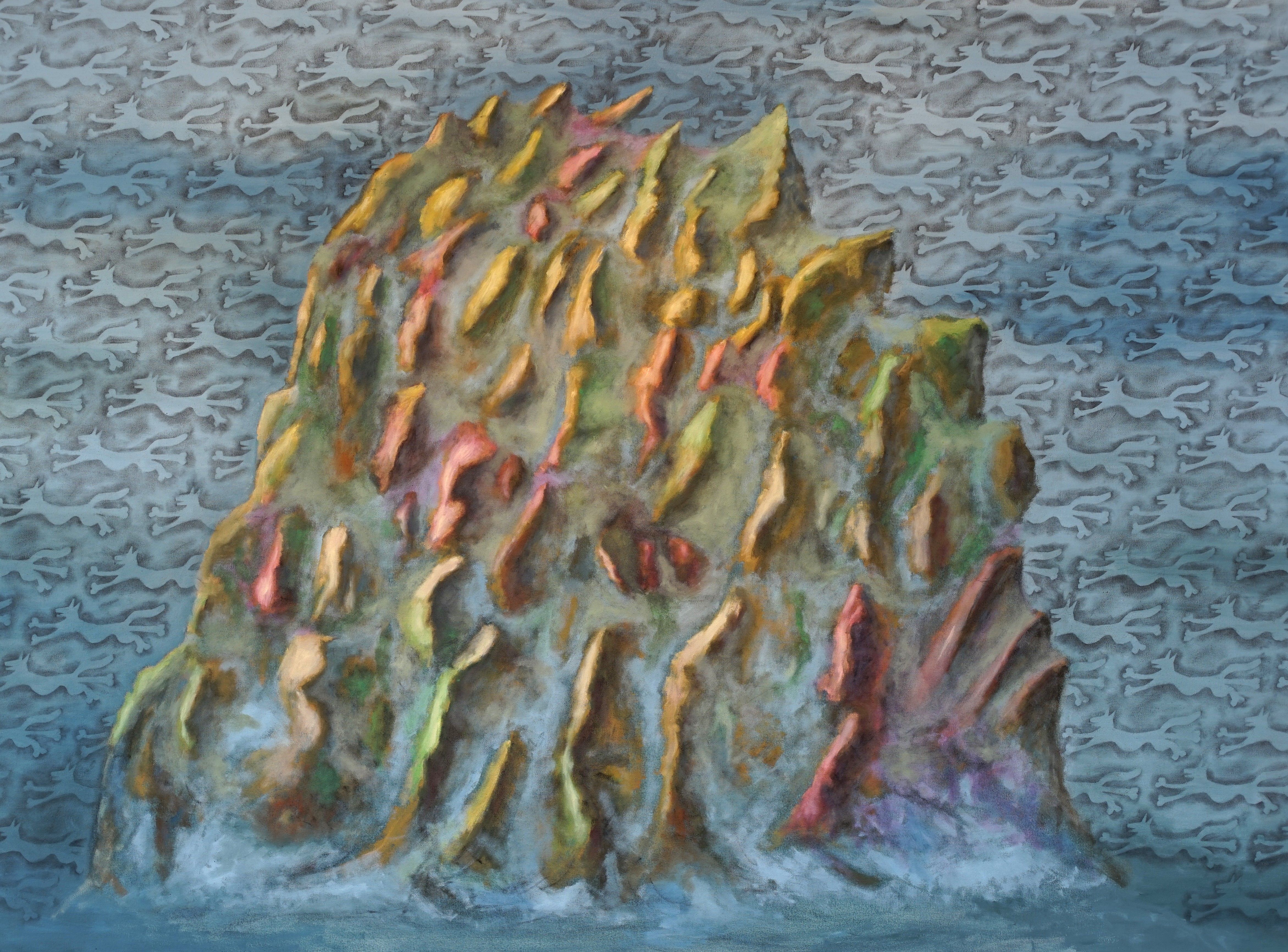 above:
Wind, 2017,
Oil on Canvas, 120 x 90 cm
Foto: Urs Kupferschmied
below:
Ordnung, 2018
Oil on Canvas, 120 x 90 cm
Foto: Urs Kupferschmied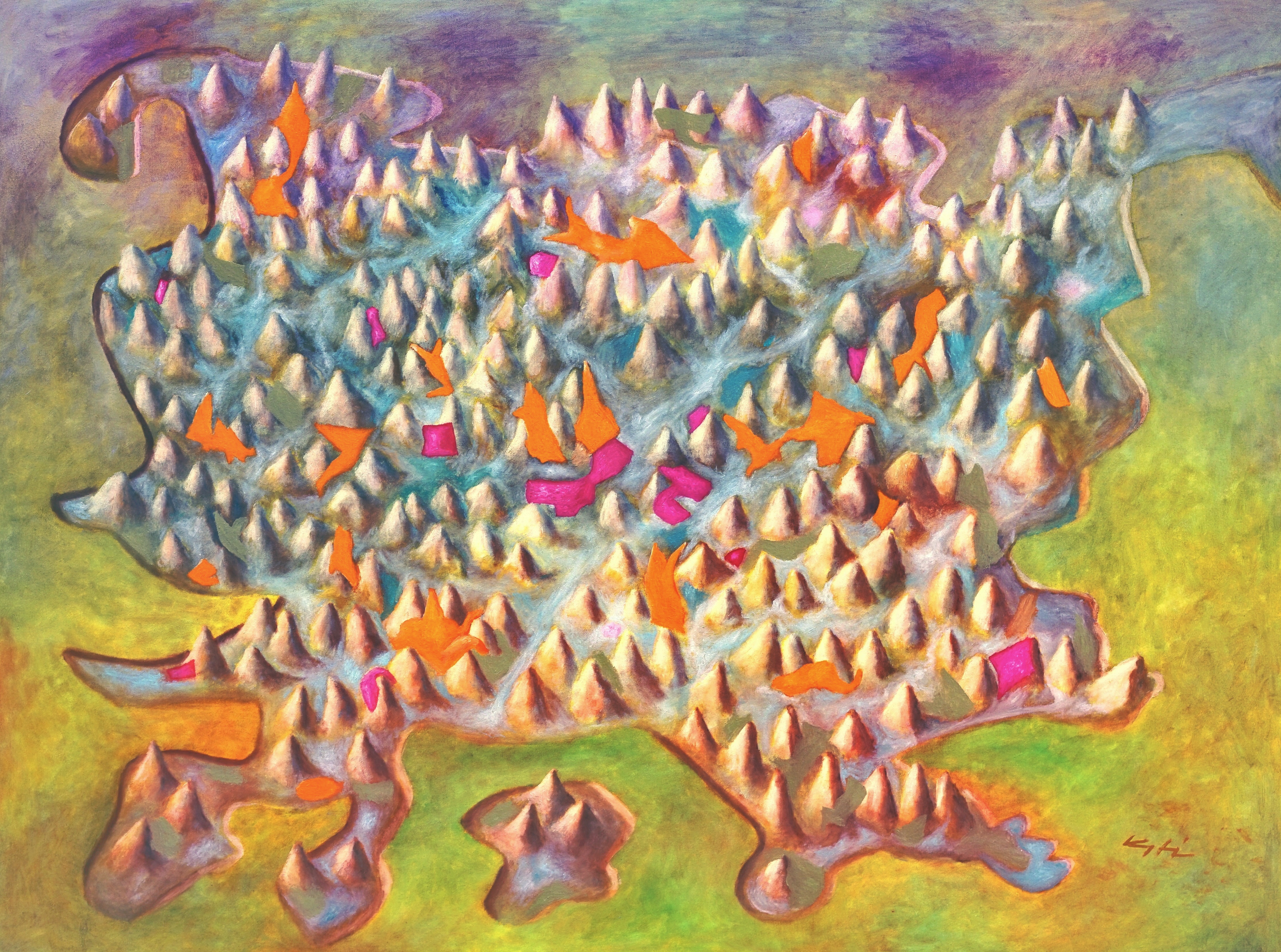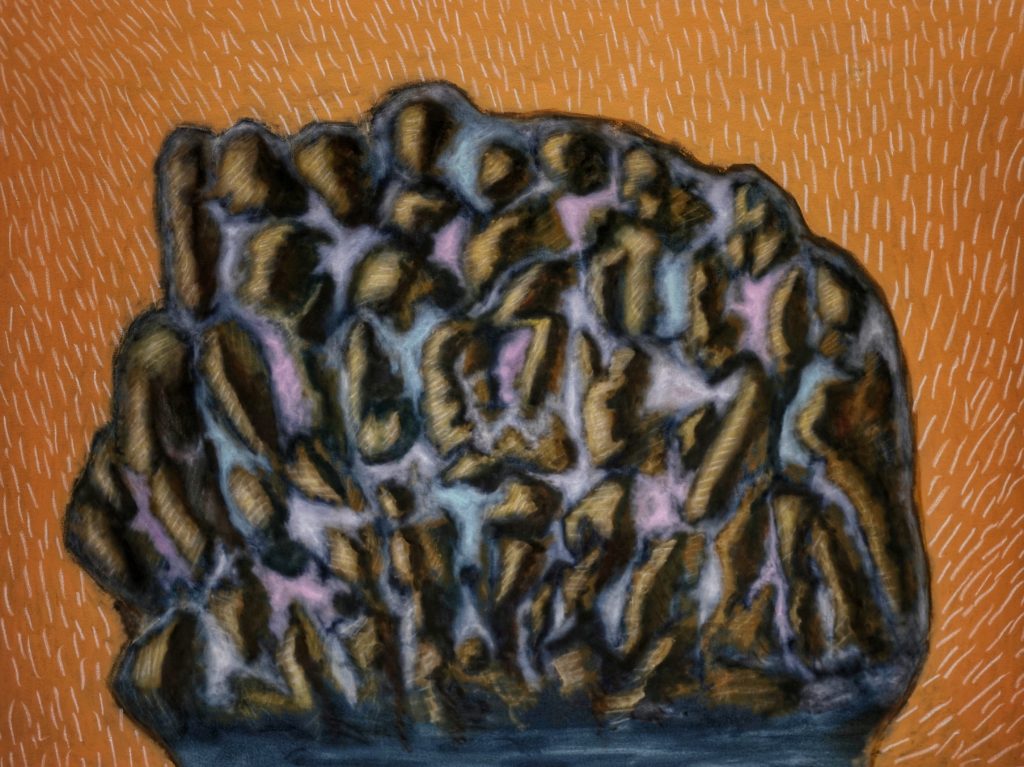 Das Fell der Bombe, 2018
Oil on Canvas
120 x 90 cm
Foto: Urs Kupferschmied