Schloss Dottenwil
Die erste Kunstausstellung im Schloss Dottenwil Wittenbach ist dem Kunstschaffenden Urs Kupferschmied zu Ehre gekommen. Der neu hergerichtete Galerieraum wurde zusammen mit Initiant Paul Huber und Lothar Natau von der Interessengemeinschaft Schloss Dottenwil mit dem Durchschneiden des Bandes am 06. März 1999 offiziell eröffnet.
Ausstellungsdauer "Orgismus" von Urs Kupferschmied 06. März bis 30. Mai 1999 mit einer Eröffnungsrede vom Präsidenten der IG Schloss Dottenwil, Lothar Natau. Über den Künstler spricht die österreichische Autorin Astrid Falk-Schober.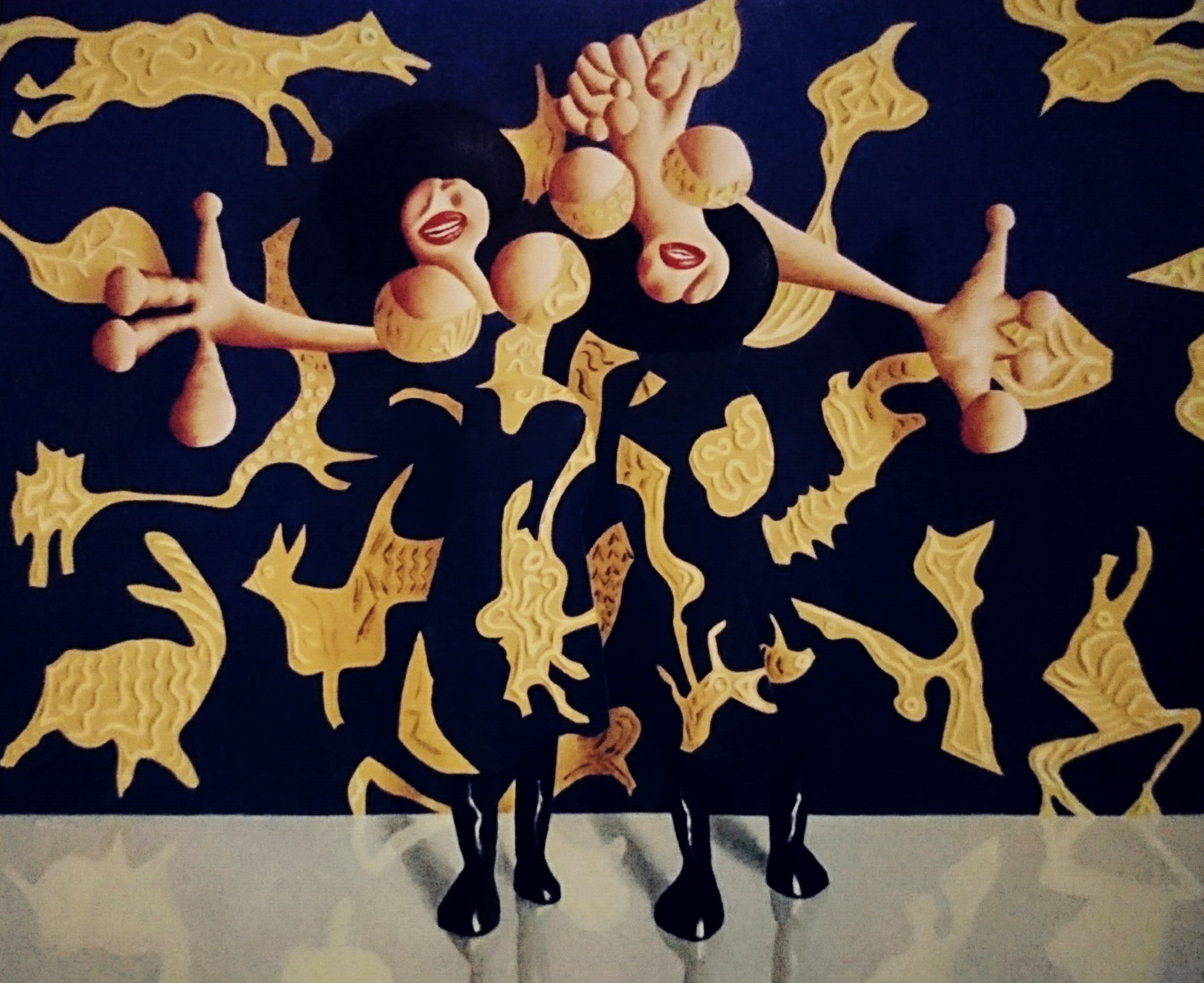 above:
On Stage (Zweieinsfrau), 1998
Oil on Canvas, 120 x 100 cm
Private Collection
Foto: Urs Kupferschmied
The first art exhibition in Dottenwil Castle in Wittenbach honoured the artist Urs Kupferschmied. Together with initiator Paul Huber and Lothar Natau from the Interessengemeinschaft Dottenwil Castle, the artist officially opened the newly renovated Gallery by cutting the ribbon on 6 March 1999.
Exhibition duration "Orgism" by Urs Kupferschmied 06. March to 30. May 1999. With an opening speech by the President of IG Schloss Dottenwil, Lothar Natau. The Austrian author Astrid Falk-Schober talks about the artist.
Vernissage in der Kellergalerie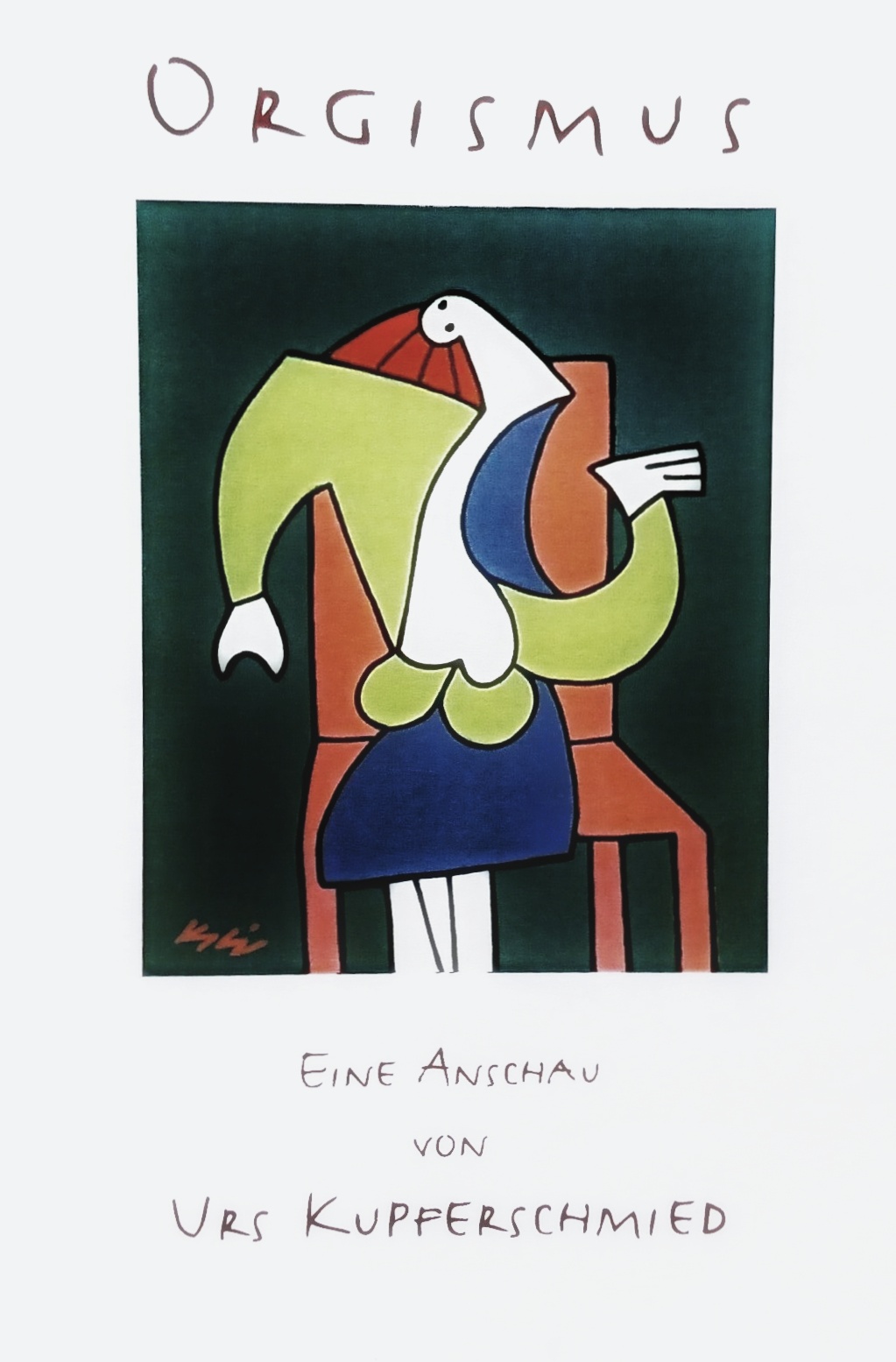 Bild: Urs Kupferschmied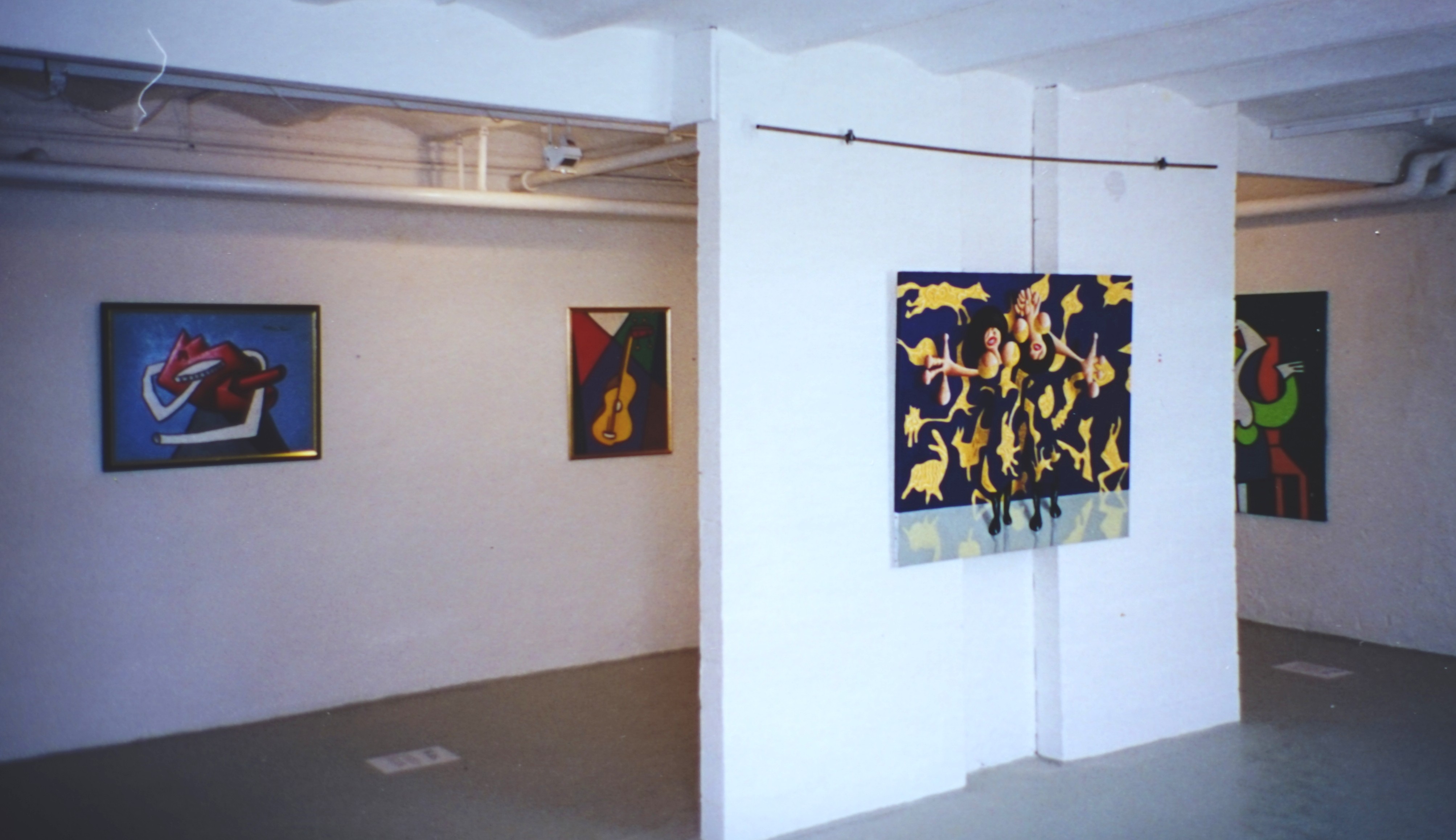 Foto: Paul Huber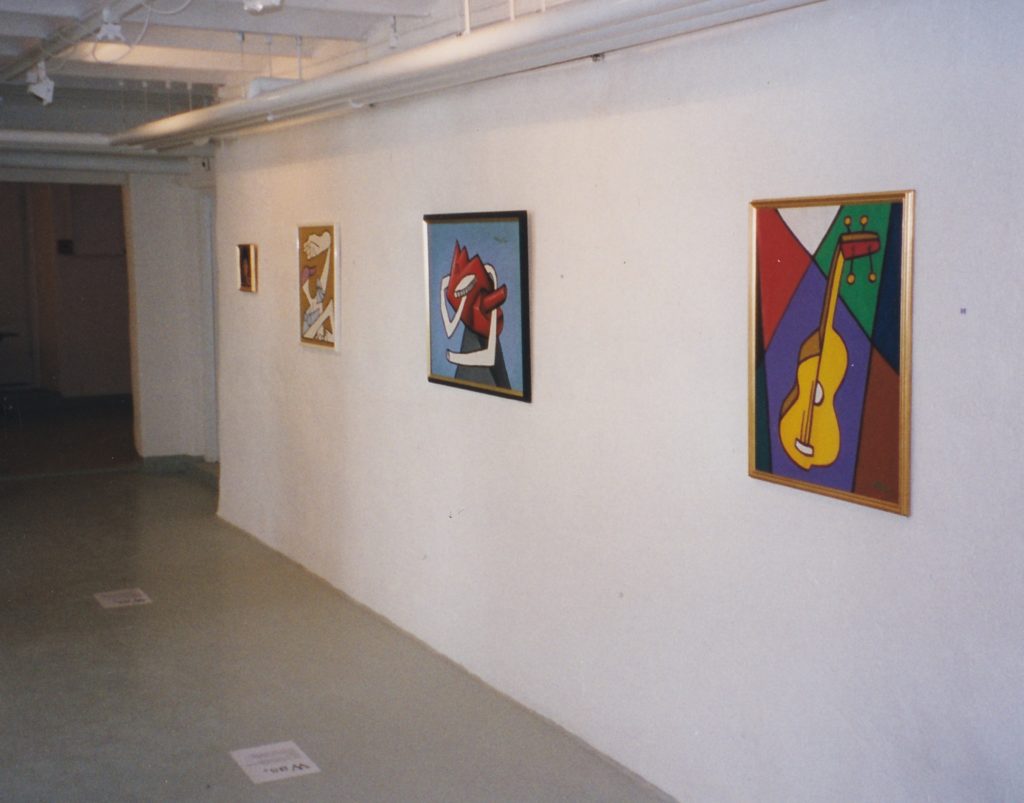 Foto: Paul Huber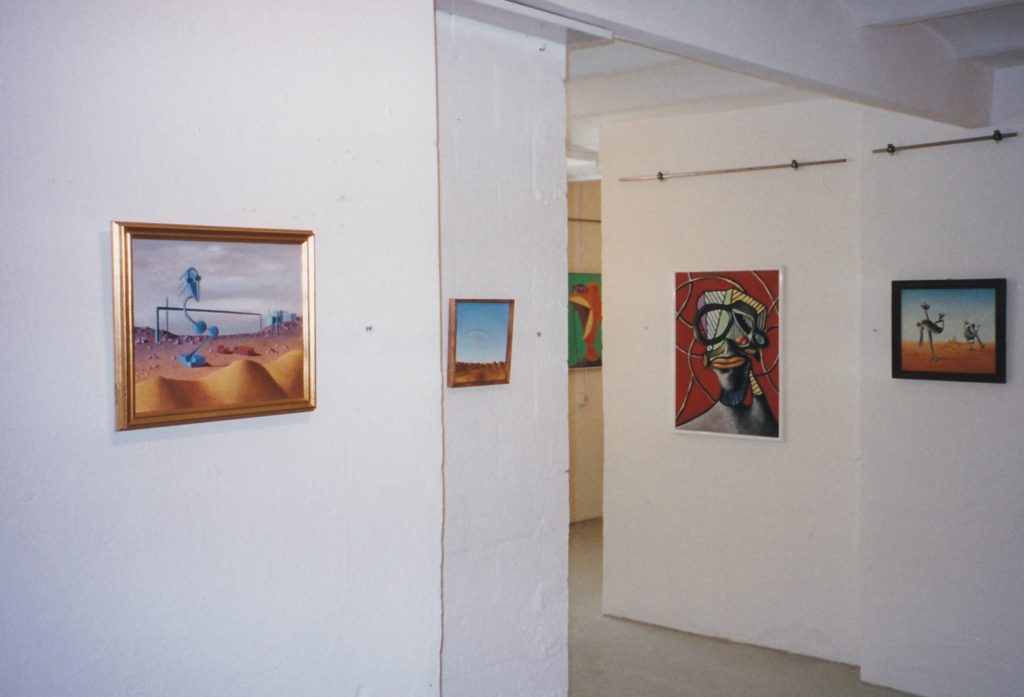 Foto: Paul Huber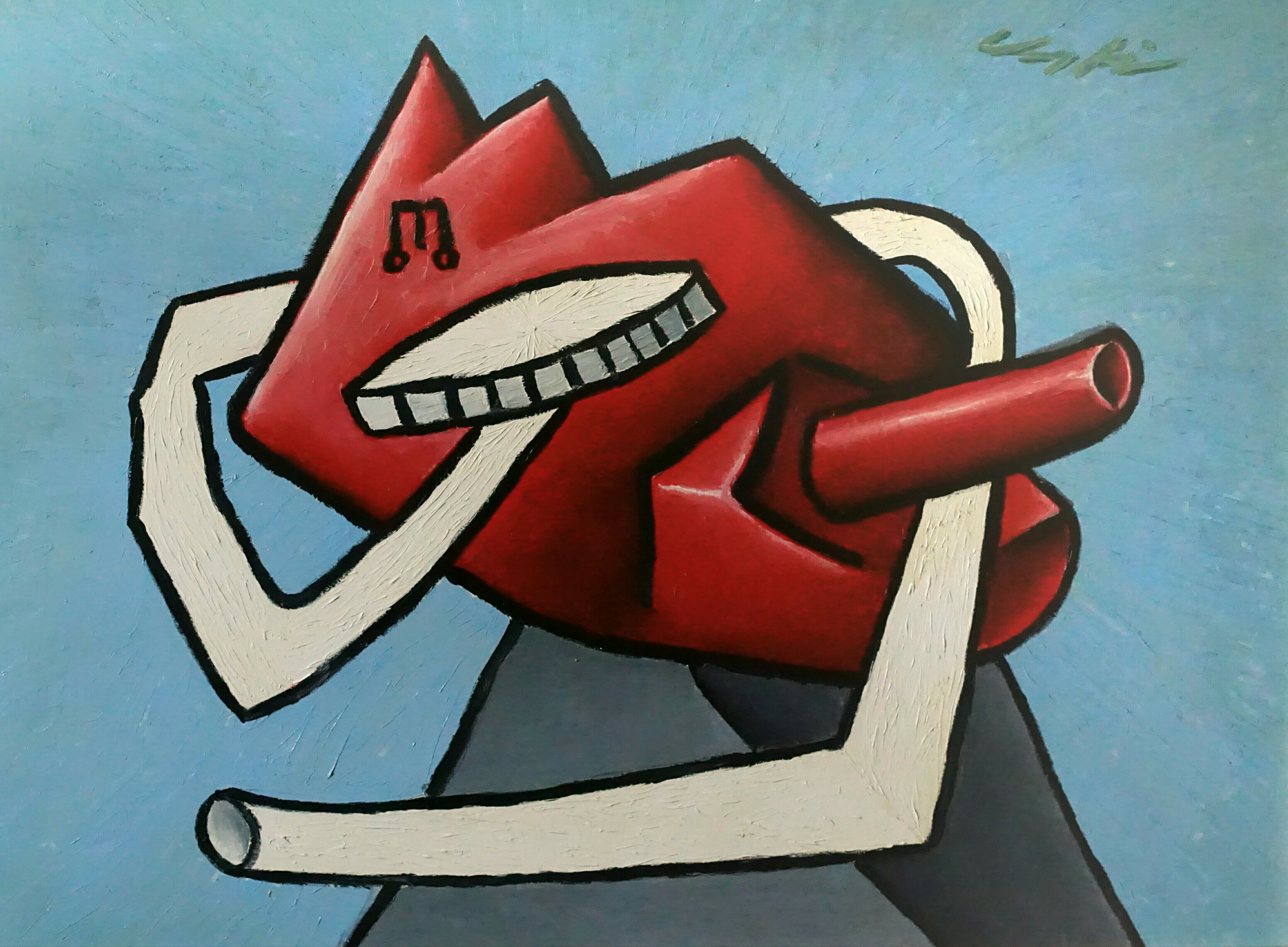 above:
Interstellares Herz, 1995
Oil on Cardboard, 94 x 76 cm
Foto: Urs Kupferschmied
Dieses Bild stellt die Bekundung der unendlichen Weiten des Kosmos und seiner Energie in allen Ausprägungen und Richtungen dar. Wo einst die Beteiligten der Moderne anhand der vierten Dimension Erklärungen und Lösungen für die abstrakte Malerei suchten, überlagern hundert Jahre später gesellschaftliche Dynamiken die damalige Faszination über neue Theorien der Himmelsmechanik im Zuge der von Einstein gesetzten Modelle. Erklärungen und Lösungen ergeben sich heute unter anderem aus der Optimierung des zwischenmenschlichen Handelns, das beeinflusst ist von der Flut unbewältigter zivilisatorischer Probleme.
Auf dem 94 x 74 cm grossen Bild ist eine fleischig wirkende Gestalt gemalt, die von einem weissen Wulst, an dessen eine Ende eine Öffnung und am oberen anderen Ende sowas wie ein Pedal sich befindet, umgeben ist. Die rote Fleischgestalt selbst erhält durch ihre Helldunkel-Abstufung Plastizität. Rot und Weiss werden ergänzt durch ein Steingrau, welches vom unteren Rand bis zum Rot die Fläche einnimmt, was die gesamte Figur als Monument erscheinen lässt. Ein sanftes Blau ergänzt die geheimnisvolle Szenerie und umgibt sie mit weichem Tageslicht.
This painting represents the manifestation of the infinite dimensions of the cosmos and their energy in all forms and directions. Where once the participants of modernism sought explanations and solutions for abstract painting on the basis of the fourth dimension, a hundred years later social dynamics overlay the fascination of that time for new theories of celestial mechanics in the course of the models set by Einstein. Today, explanations and solutions result, among other things, from the optimisation of interpersonal behaviour, which is influenced by the flood of unresolved problems of civilisation.
On the 37 x 29 inches large picture, a fleshy-looking figure is painted, which is surrounded by a white bead, at one end on an opening and at the other end is something like a pedal. The red flesh shape itself receives plasticity through its chiaroscuro gradation. Red and white are complemented by a stone gray, which occupies the area from the lower edge to the red, which makes the entire figure appear as a monument. A soft blue complements the mysterious scenery and surrounds it with soft daylight.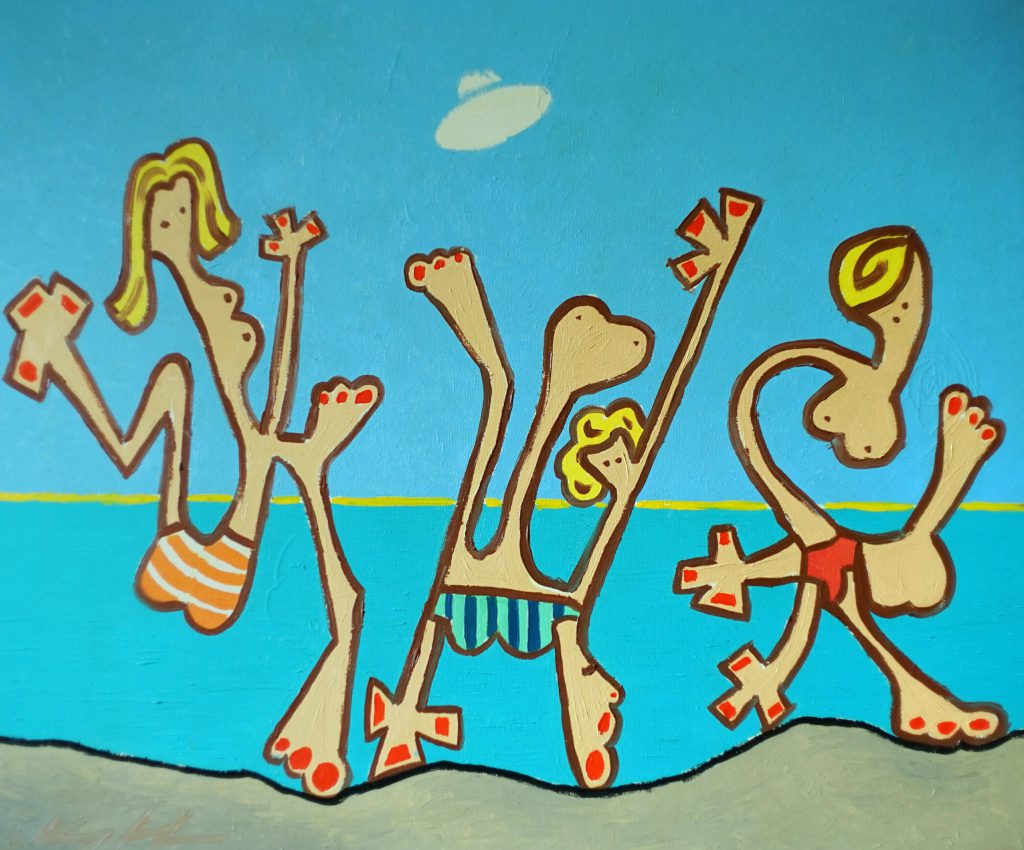 above:
Badende am Strand, 1998
Oil on Canvas, 60 x 50 cm
Private Collection
Foto: Urs Kupferschmied
In ähnlichem Muster werden drei Figuren dargestellt wie im hochformatigen Bild "Girls In Space". Auffällig die schiefe Horizont-Linie im Hintergrund, die das Meer und den Himmel aneinander grenzen und das Auge des Betrachters an den Figuren vorbei dorthin ziehen lässt – unbekümmert ab der Situation im Vordergrund.
In a similar pattern three figures are shown as in the upright format picture "Girls In Space". The oblique horizon line in the background, which borders the sea and the sky and allows the viewer's eye to pass by the figures, is conspicuous – regardless of the situation in the foreground.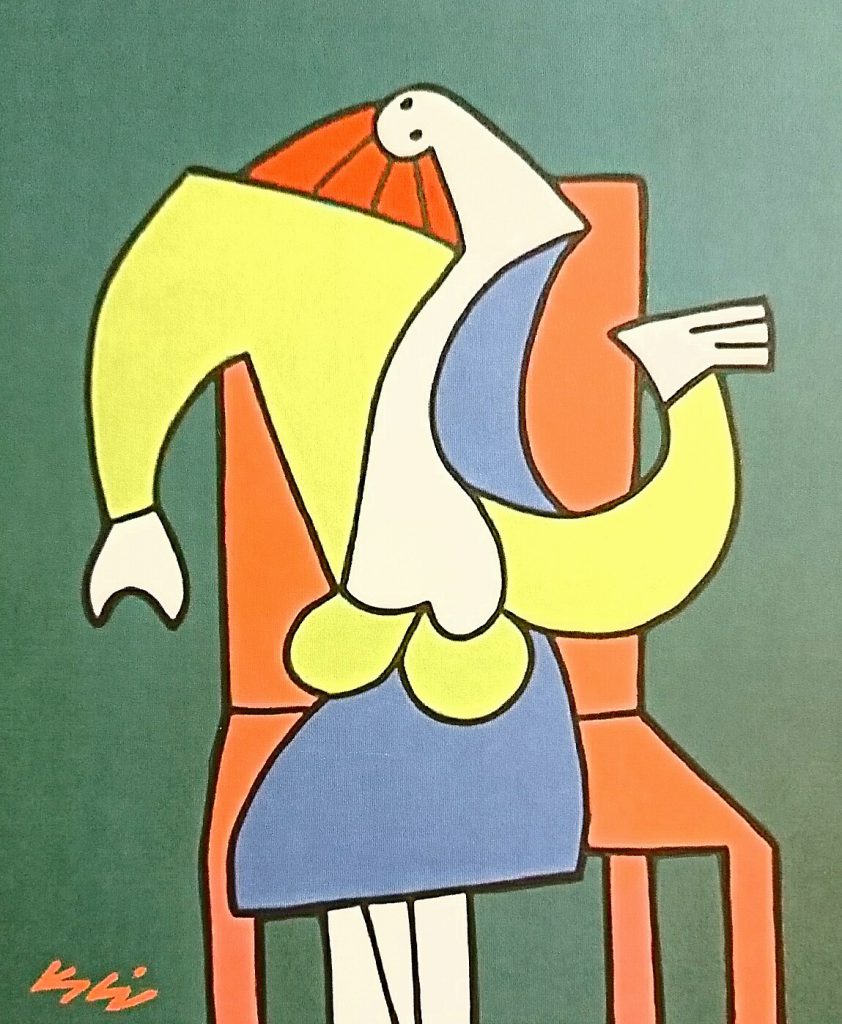 above:
Frau in rotem Stuhl, 1993
Oil on Canvas, 100 x 120 cm
Private Collection
Foto: Urs Kupferschmied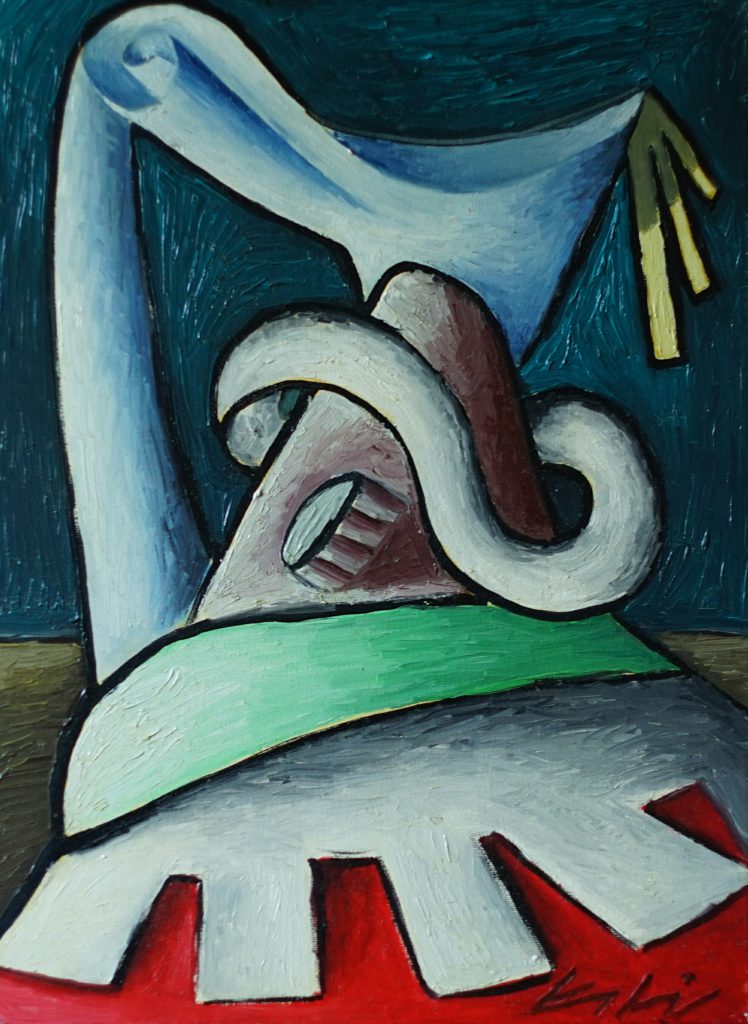 above:
Diener, 1994
Oil on Canvas, 30 x 40 cm
Foto: Urs Kupferschmied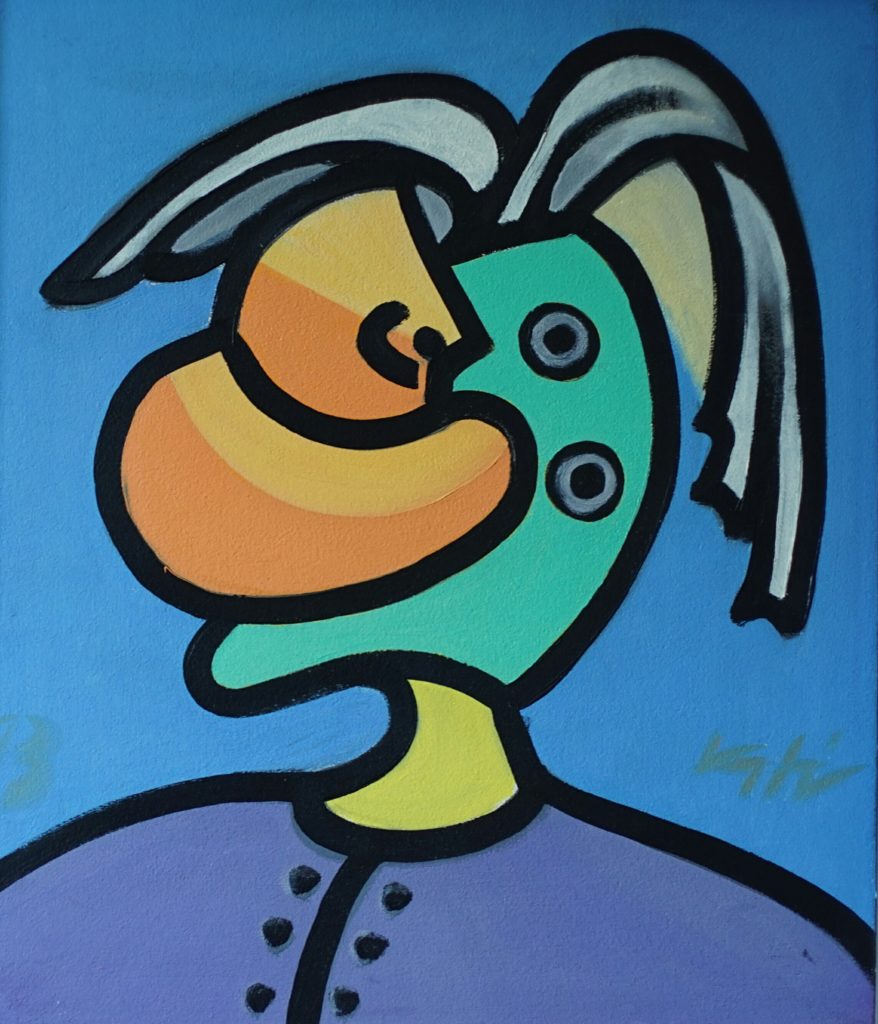 above:
Glacekopf, 1993
Oil on Wood Panel, 40 x 50 cm
Foto: Urs Kupferschmied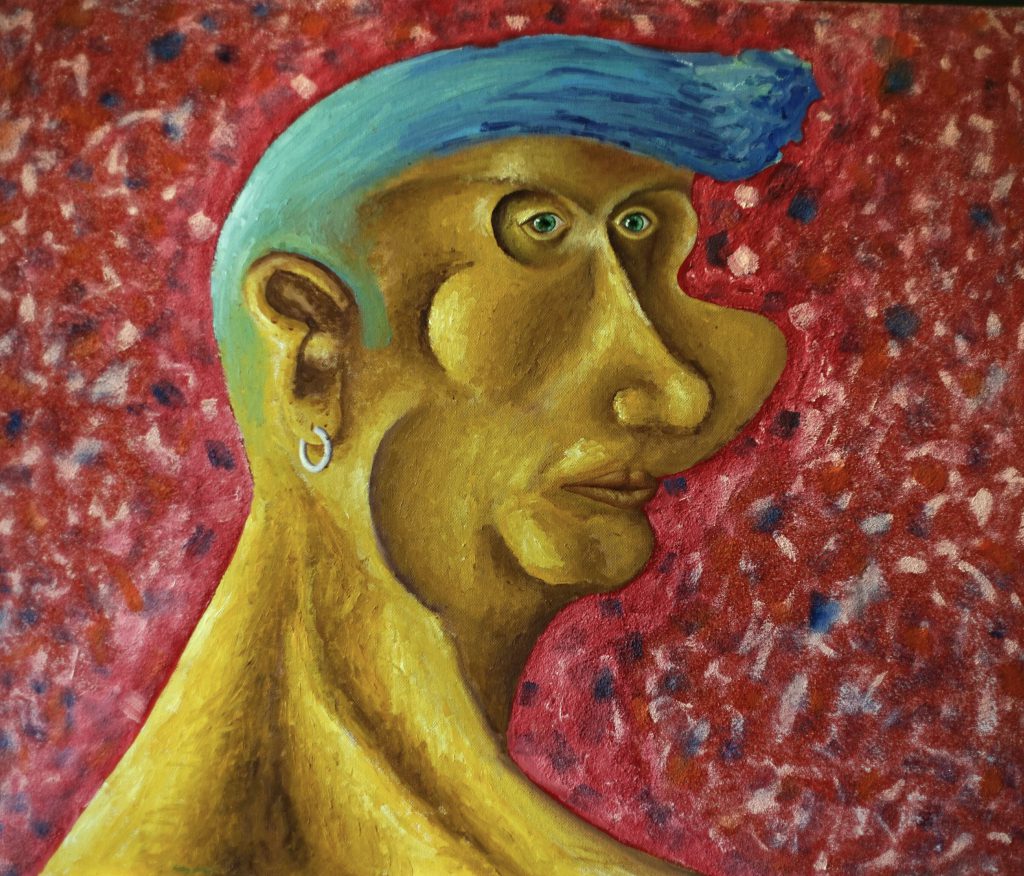 above:
Carneval, 1994
Oil on Canvas, 60 x 50 cm
Private Collection
Foto: Urs Kupferschmied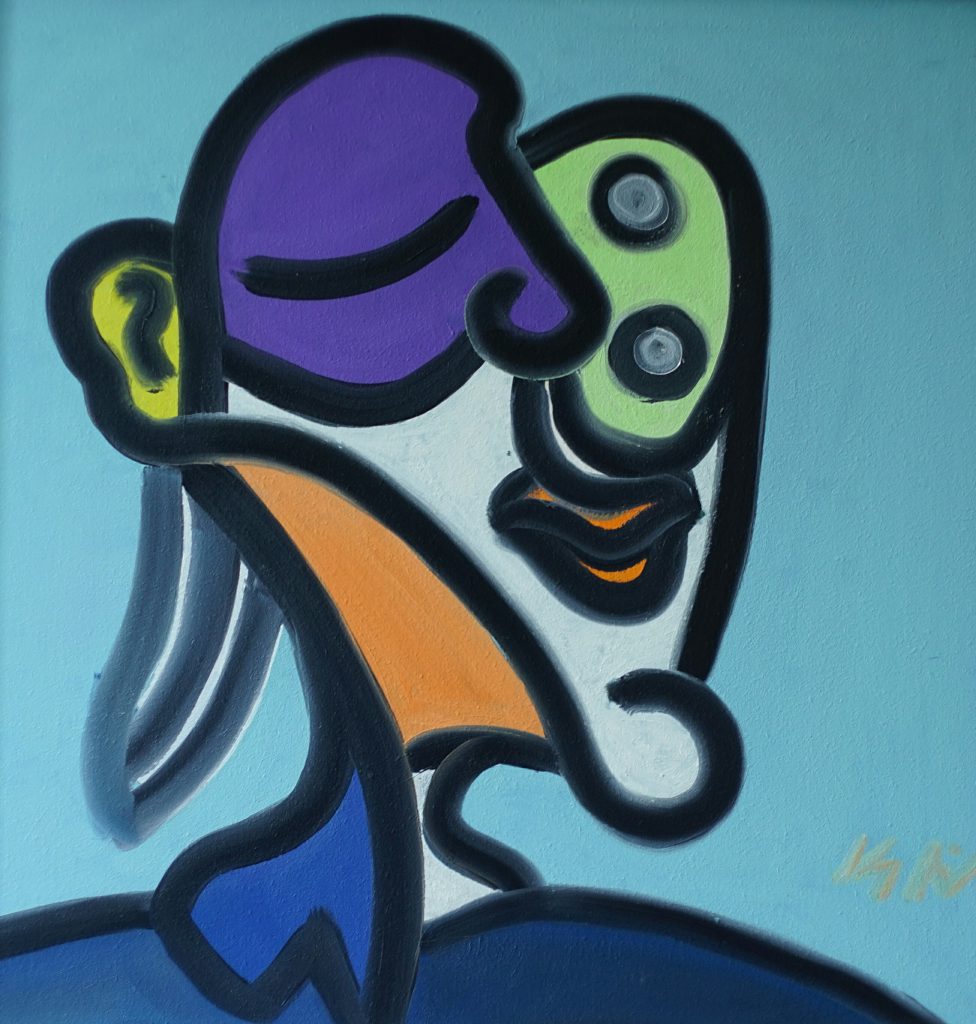 above:
Glacekopf II, 1993
Oil on Wood Panel, 45 x 50 cm
Foto: Urs Kupferschmied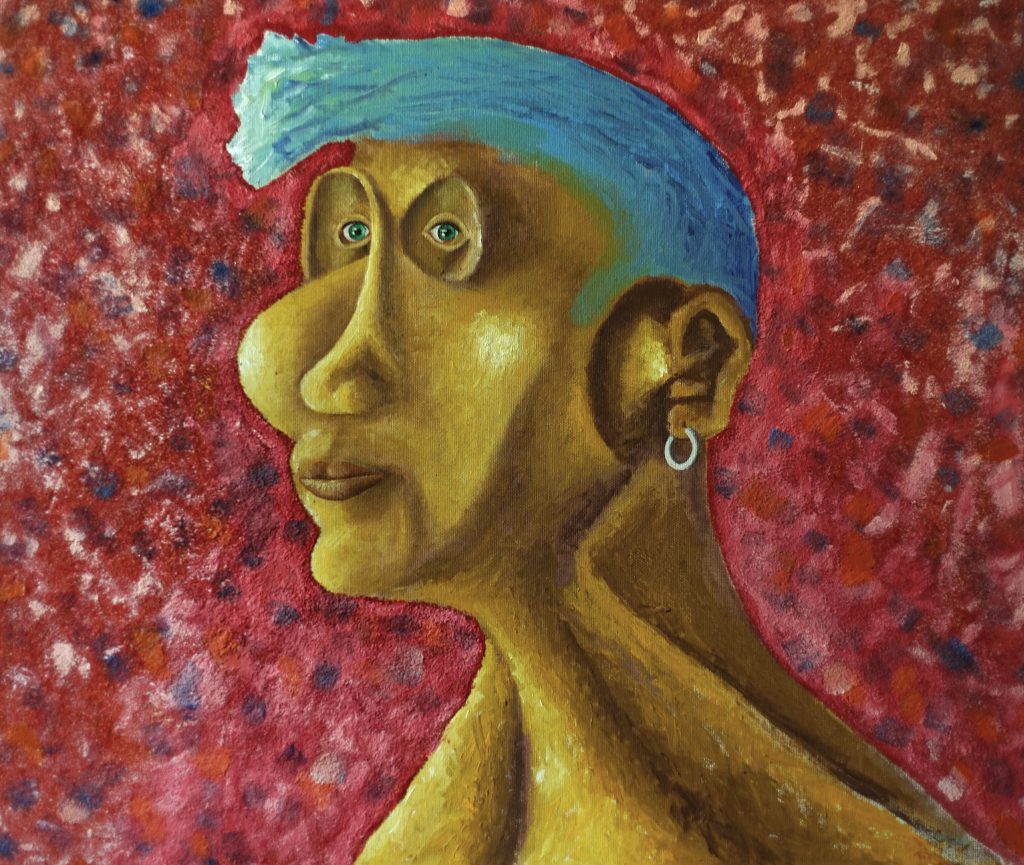 above:
Carneval II, 1994
Oil on Canvas, 60 x 50 cm
Private Collection
Foto: Urs Kupferschmied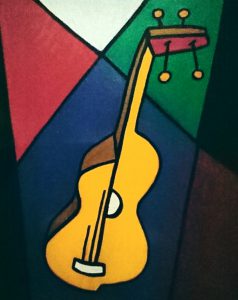 above:
Instrument in drei Positionen, 1990
Oil on Wood Panel, 60 x 80 cm
Private Collection
Foto: Urs Kupferschmied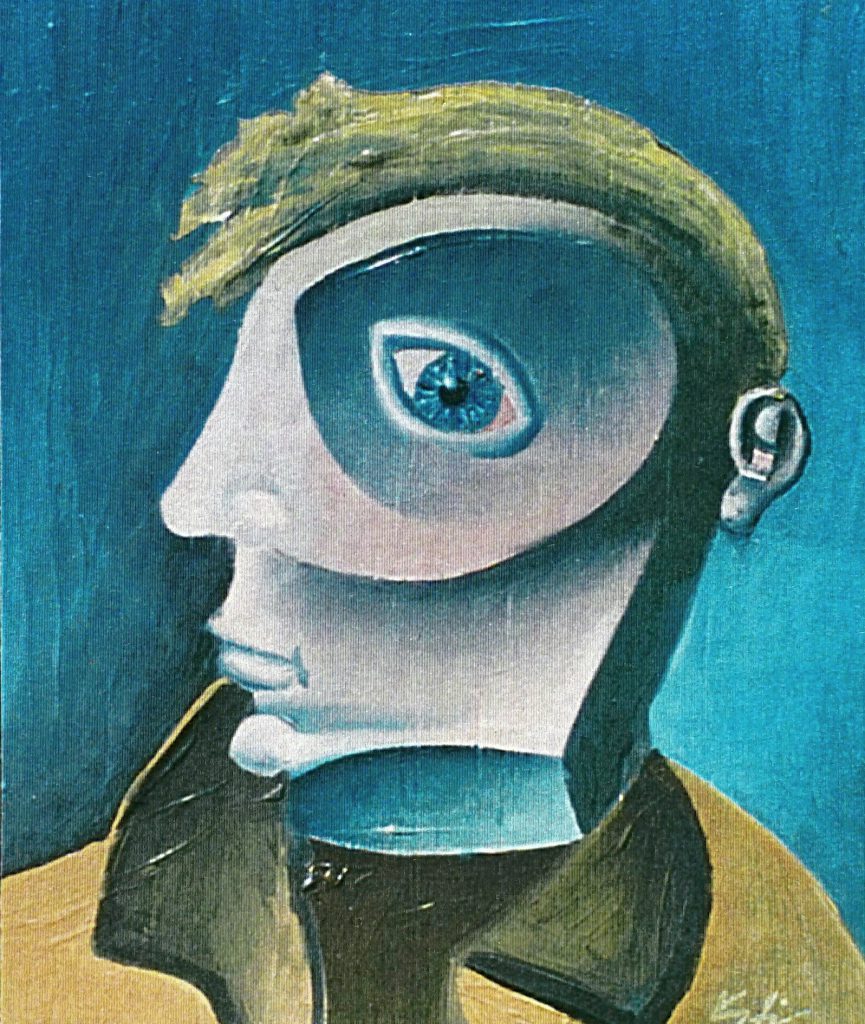 above:
Der Vorhörer, 1995
Oil on Wood Panel, 15 x 17 cm
Private Collection
Foto: Urs Kupferschmied